Who doesn't love a good salad? But most store-bought salad dressings are packed with sugar and preservatives that aren't good for you.
They can also be filled with artificial flavours and chemicals that you probably don't want to put in your body. Instead of buying pre-packaged salads and dressing, why not make your own instead?
It is so much healthier, and it is cheaper than buying pre-made packaged ones. Making your own salad dressing is also super easy. There are plenty of ways to make a great tasting olive oil dressing while keeping the calories, carbs, fats, and sodium low.
In this guide, we'll look at what olive oil is and plenty of inspirational ideas to take your salads to the next level. So, if you're wondering how to make salad dressing with olive oil, keep on reading.
What Is Olive Oil?
Olive oil is the oil pressed from olives. It is rich in antioxidants, minerals, vitamins, and fatty acids that are great for your health. Olive oil is a versatile ingredient that can be used in lots of different ways.
It's Better For You Than Other Fats
You might think that all fats are bad for you, but there are different types of fat. While you should still be careful with your fat intake, olive oil is one of the better ones.
Unlike fats found in butter and other animal products, olive oil won't raise your cholesterol levels as it's rich in monounsaturated fats.
It is also full of antioxidants and vitamins, which helps your body fight infections and diseases. That being said, you don't want to eat too much of anything, and for more information on olive oil, check out our other articles.
How Many Calories Are In A Teaspoon Of Olive Oil?
This depends on the type of olive oil that you are using. However, on average, olive oil has 40 calories per teaspoon, which is approximately 4.5g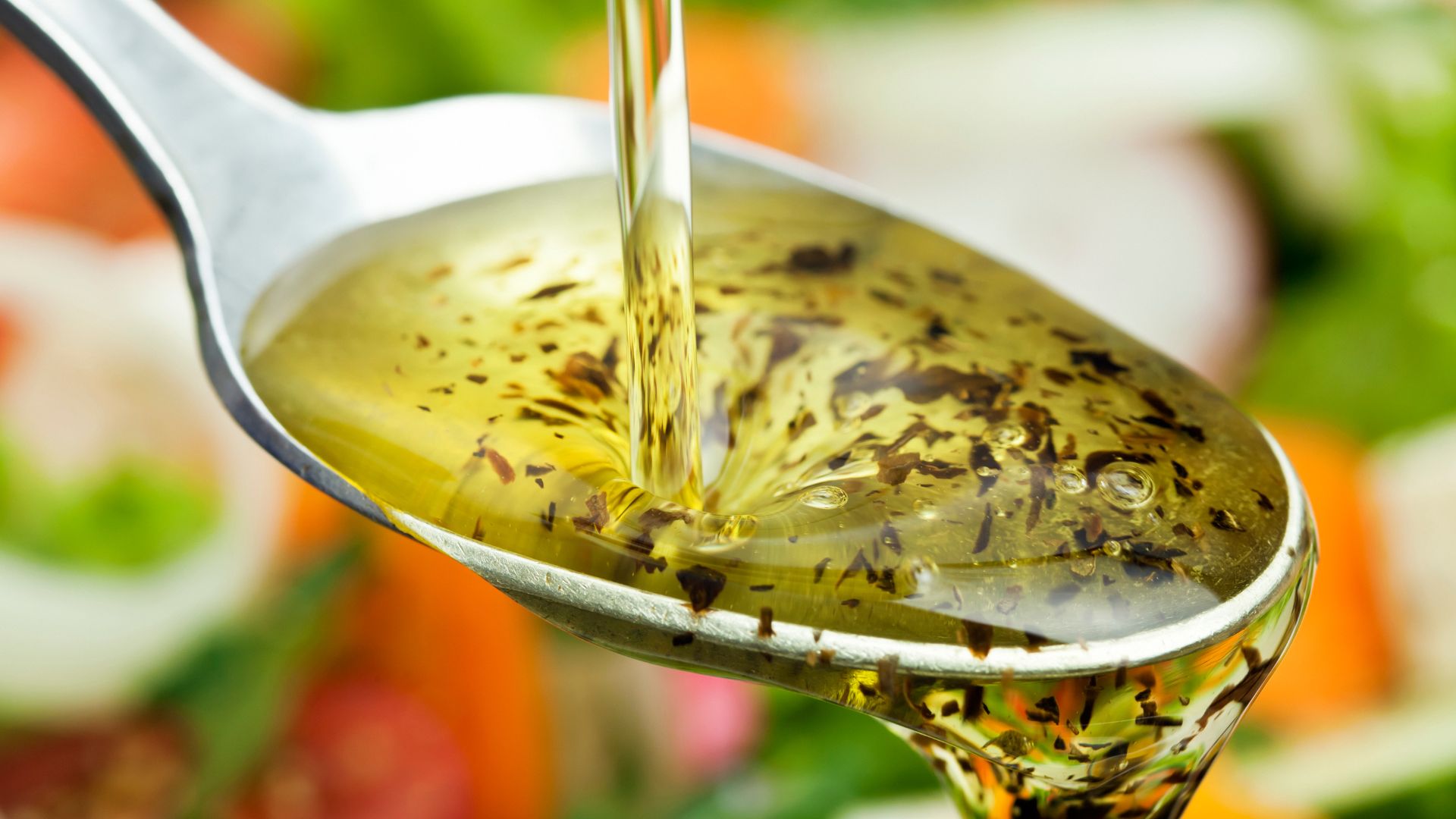 The Refreshing Lemon And Olive Oil Salad Dressing
This is a recipe that uses the fresh flavours of lemon and olive oil to create a light and refreshing dressing.
It is a great way to kick your salads up a notch and is a simple dressing recipe to try out. This is a very easy dressing recipe that is sure to become a staple in your home.
Ingredients:
1 tbsp of lemon juice
3 tbsp of olive oil
Black pepper to taste
Add all of the ingredients together in a bowl and whisk thoroughly until fully combined. Drizzle over any salad for a refreshing taste and the perfect side on a warm summer's day.
Tips:
If you're using a fresh lemon, roll it on a hard surface to release more juice before you cut it.
For the best results and taste, try using extra virgin olive oil.
The Spicy Chilli, Lime, And Olive Oil Dressing
This salad dressing is a great recipe to try out if you want to spice things up a bit. This recipe is easy to make and is great for dressing salads or even used as a marinade for other dishes. It is a great way to use up spare limes and leftover chillis that you have lying around. If you want a bit of warmth but can't handle the spice, you can reduce the amount of chilli that you use.
Ingredients:
The zest of 1 lime
The juice of 1 lime
3 tbsp olive oil
1 red chilli, finely chopped
First, roll the lime on a hard surface in order to release more juice. Then gently grate the zest from the lime before cutting in half and juicing. Add the lime and the zest into a bowl with the chilli and olive oil. Then mix them together into combined before drizzling over your salad.
Tips:
If you want a bit more spice, use two chillis instead of one.
Alternatively, if you need to reduce how spicy the dressing is, deseed the chilli and only use half instead of a whole one.
Consider serving this dressing separately with your salad if your guests have different spice tolerances.
The Classic Balsamic Vinegar And Olive Oil Dressing
If you are a fan of rich and tangy flavours, then this is the salad dressing for you. Balsamic vinegar has a rich and sweet flavour that is a great complement to the fresh taste of olive oil.
Ingredients:
1 tbsp balsamic vinegar
3 tbsp olive oil
Pepper to taste
For this recipe, you can blend the ingredients together in a bowl before drizzling them over your salad. However, combining olive oil and balsamic vinegar can be difficult, so for the best results, consider using a salad dressing shaker or jar and shaking the ingredients vigorously before serving.
The Fruity Raspberry And Olive Oil Dressing
Fruity salads are a staple of summer, and with this dressing, you'll be able to wow your friends and family at your next barbeque. The fruity raspberry and olive oil dressing is an excellent addition to any salad, especially those that contain fruit.
Ingredients:
1 tbsp raspberry vinegar
3 tbsp Kalamata olive oil
Pepper to taste
Put all of the ingredients in a jar or salad dressing shaker and shake until they are well combined. Then place your salad ingredients in a bowl, drizzle over the raspberry and olive oil dressing, and stir to combine.
Tips:
The Sweet Maple Syrup, Balsamic Vinegar, And Olive Oil Dressing
If you are a fan of sweet flavours, then this is the salad dressing for you. It is a simple dressing that is easy to make, won't break the bank, and is super healthy. This dressing can also be used as a marinade for vegetables and fish.
Ingredients:
6 tbsp olive oil
4 tbsp balsamic vinegar
2 tsp minced shallot
1 tsp maple syrup
A pinch of salt
Combine your ingredients in a bowl or, for the best results, by shaking in a covered jar. Then prepare your salad and drizzle over the dressing for a sweet and decadent taste sensation.
Tips:
This type of dressing is excellent with salads that contain nuts, especially toasted pine nuts or walnuts. Try roughly chopping these into your next salad before adding the dressing.